In response to harsh criticism to last month's post (you know who you are, for shame! and I know where you live!), I am now amending it with a corollary note to the effect of--
Discrepancies in dates/names/etc. do NOT give you carte blanche to jump to unreasonable conclusions without further research!
For example, don't be all "OMG, Mary Elizabeth Smith in Illinois and Lizzie Smith in Wisconsin have totally different families but their birth years are only five years apart! This crazy girl on the internet told me I could merge them together! COOL!"
Yeah. Don't be like that.
If you want to make that claim, you'll need to do some careful sleuthing. I'm going to use the story of Joseph Klein as a cautionary tale to illustrate the need for careful consideration of the facts before coming to a conclusion.
Let me throw in another disclaimer. I've collected enough evidence in the following paragraphs to put together a story--but there are still missing facts. I present my interpretation with the understanding that some information could come to light someday that brings all my lovely theories crumbling to the ground.
So, how about those Kleins, anyway? There are a number of them in the southwest Wisconsin region, and so far I've traced everyone back to three Klein progenitors--
Anton Klein, born 1821 in Prussia; settled in Potosi by 1857 when he married Anna Schwartz.
Franz G. Klein (Joseph Sr.), born ~1797 in Prussia; settled in Potosi by 1870 with his son, daughter-in-law, and grandson. His wife is unknown; she presumably died before the family came to America.
John Klein, born 1861 in Prussia; settled in Dubuque, Iowa (right across the Mississippi from Grant County) by 1885 and married Elizabeth Grommersch.
Were any of these three men related, and convinced to settle in southwest Wisconsin due to favorable reports received from a family member that had already made the move? Anything is possible, but so far no information has come to light linking them, so for now the families must be treated as three distinct bloodlines.
(Alert: Speculation ahead!)
As for my family, we are descendants of Franz G./Joseph, who I believe are the same man. When I first started out on my family search, I knew him only as Joseph, with a son named Joseph who married Emma Kehrer. Since recording those sparse notations available in the family Bible, I have fleshed out the family's history, and have more questions to answer. Here's the scenario I propose:
I discovered the lichen-encrusted headstone of Franz G. Klein (1791-1878) directly behind that of Joseph Klein and Emma Kehrer, in St. Thomas Cemetery, Potosi. I feel confident that this is the man who came down in family records as Joseph, due to the matching birth and death dates and proximity of burial to Joseph Jr. Perhaps Joseph was one of several given names, but for some reason Franz G. was the moniker decided on for his headstone.
Next to Franz/Joseph Sr. was another headstone with a very interesting inscription--"Katharina Delaney, wife of Joseph Klein." I didn't know Franz's wife, so initially I thought this was her; but further light shed by census records revealed that Katharina was actually the wife of the younger Joseph. Emma Kehrer was Joseph Jr's second wife; Katharina Delaney's existence, and her part in our family, had been forgotten until I uncovered her headstone more than a hundred years after her death.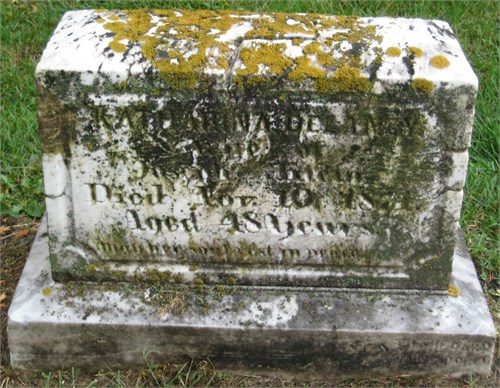 It's more readable in person.
Furthermore, the 1870 census revealed that Joseph and Katharina (Delaney) Klein had a son! And his name was... Joseph. Joseph Sr./Franz was living with them, so in a household of four, three of the people were named Joseph. Is it any wonder that Joseph Sr. might have wanted to go by another name on his headstone? Katharina died in 1871, and Joseph Jr. and Emma were married in 1875.
Now, Joseph III was a brand new great grand uncle to me, so I wanted to find out all I could about him. In 1880, Joseph III was still living with his father, stepmother, and two half-sisters. In a 1905 census, a single Joseph Klein appears in Potosi boarding with the Vogelsberg family, who could be my man. I can't find him in the 1910 census, but for 1920... I had a couple candidates to choose from. Two Joseph Kleins born ~1862 had families in Grant County for the 1920 census. How was I going to figure out which was the RIGHT Joseph Klein?
Candidate #1 was definitely an outlier. He lived in Beetown and was married to a woman named Jessie, hardly the name of a nice German Catholic girl that my Joseph's family would have wanted for him. He had children with avant-garde names like Nevada and Violet. I didn't have a good feeling about this guy.
Candidate #2, however, and his wife Mary of Potosi proved to have a stellar track record at choosing traditional, sensible names for their brood of children--Henry, Alfred, Jacob, Leo, Clarence, Lucille. Furthermore, this Joseph and Mary Klein have a headstone in St. Andrew Cemetery, Tennyson, buried near other relatives of mine. It was a perfect fit.
Still, this was all circumstantial evidence. I hadn't proved anything; I'd just turned up two Joseph Kleins born in the same time frame. There was just one little difference between the two individuals--place of birth. One was born in Illinois, and one in Wisconsin. This was the key! I knew from the 1870 census that Joseph and Katharina's son had been born in Illinois. So the Joseph Klein I was seeking was, of course--
Candidate #1. Joseph and Jessie. Unlikely as it seemed at the start, the outlier was my guy. So, let that be a lesson to you all that the obvious solution to a puzzle is not always the correct one. It's important to keep an eye out for these small but significant clues that can break a case wide open. (I believe Candidate #2 is the son of Anton Klein, one of the original three Kleins.)
Records at the Lancaster County Court House led me to Joseph III's death certificate (he died in June 1922, of diffuse peritonitis and a peptic ulcer, in case you were wondering). I also found his widow Jessie's marriage certificate to George Cardy; they were married in September 1922, a few months after Joseph died. She wasted no time! But after Jessie's remarriage, I could find no trace of the family, and I was stuck on that point in my research for several years. There were four children listed for Joseph and Jessie in 1920; what had happened to them?
Earlier this year, a chance discovery of a woman named Violet buried in Lancaster led me into communication with a descendant of Jessie, and I was able to pitch my idea to her. I had convinced myself of the veracity of this branch of the Kleins. Would Jessie's family agree with my findings? I was able to test my theory on Laurie and get her impression.
Laurie and I pooled our notes. I learned that Jessie was born Jessie Robinson; with her first husband, Roy Ellis, she had two daughters, Nevada and Violet. Then she married Joseph Klein, and they had three sons--Joseph (#4!), Francis, and Stanley. And, as I mentioned above, she married George Cardy after Joseph's death. The only information that we disagreed on were the names of Joseph's parents. According to my story, they were Joseph Klein and Katharina Delaney. According to notes Laurie had taken from Joseph and Jessie's marriage license (they were married in Dubuque), Joseph's parents were Peter Klein and Catherine Miller. I was a little taken aback by this information, but I was determined not to let it stop me. Could Joseph Klein/Peter Klein and Katharina Delaney/Catherine Miller still be the same people, and my story stand?
I have theories about how the discrepancy could have happened. Obviously, there were many Joseph Kleins in this family. Peter could have been one of several given names of Joseph Jr, and for whatever reason that is how he was named on his son's marriage papers. As to Katharina, she had died when Joseph was a boy of nine, and maybe he didn't keep track of his mother's maiden name. Maybe he had more important things to worry about, like putting food on the table before Wal-Mart Super Centers existed. I don't know. Maybe all he could remember was his mother's first name, and they filled in a generic "Miller" for the last name. These are nice theories, but as of now I don't have a solid explanation.
HOWEVER... to strengthen my case, I continued analyzing family documents, searching for more clues to cement the relationship. And clues I found!
Jessie Ellis
. Wait a minute, I know that name! The year of the postmark is not legible, but it was likely sent between 1904 (when Jessie married Roy Ellis) and 1912 (when Jessie married Joseph). Here was proof, at least, that my Kleins and Jessie knew each other.
half-brother Joseph that lived in Beetown
. Barring an unrecorded infant death, there was certainly never a half-brother Joseph. Joseph III would have been Emma's
stepson
, and
Anna
's half-brother. In any case, my grandma certainly identified Joseph Klein in Beetown as being a relation of her mother's family.
All the evidence taken together, I am personally convinced of the relationships I have presented here; but I also realize there are a missing gaps in data that I would love to fill in. The search goes on!
There is one more tidbit of information that intrigued me. Laurie shared with me that Jessie was known to be a bit of a wild child, and Emma's daughter Anna (my great-grandmother) got into a little bit of trouble in her youth, too. Jessie and Anna were sisters-in-law and just four years apart in age, so I like to think that they were BFFs, sharing wild times as teenagers in nineteenth-century Grant County, Wisconsin.